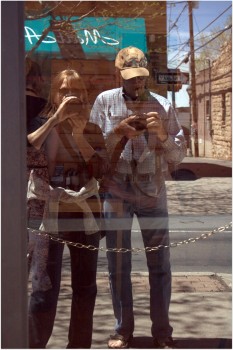 My name is Marlene Hutchison. I'm a photographer and mixed-media artist living in Northern California.
Looking back, I see that I have been influenced by and greatly admired the existentialists Sartre and Camus, pop artist Ed Ruscha, and the conceptual work of Robert Rauschenberg, John Cage, and Marcel Duchamp. I wrote my senior thesis on Marcel Duchamp's Readymades and believe that art is what you say it is.
 At this stage of life, my approach is still curious, but also meditative.  I aspire to a straight forward documentary style and consider myself a "Formal" Photographer.
For many years, I taught darkroom and photography techniques, video production, and how to use video in the classroom. I taught at adult schools, worked and taught for community arts organizations, and at Glendale Community College. I have exhibited work in both Northern and Southern California and was favorably reviewed by a L.A. Times art critic  when I was included in an exhibit of ten Los Angeles photographers.
My working career also included years of teaching ESL (English) to foreigners and immigrants.
As I navigate through my last chapter, I hope to be lucky enough to develop a state of blissful sustainable ignorance about my life and to share my work with others. The map below is of where I live in Dublin, California.
© M. Hutchison 2012